For
real results from your online marketing activities
, you must commit to consistent, value-based content creation and distribution. Content marketing is defined as "a strategic approach focused on publishing valuable, relevant content that attracts and develops relationships with a clearly defined audience to ultimately drive profitable customer action". Content can take the form of blogs, videos, emails, case studies, infographics, and other forms of online content – whatever formats are appropriate for your target audience. According to the Content Marketing Institute, "only 27% of B2C businesses and 35% of B2B businesses say they have a documented content marketing strategy"; even though the data reveals a strong correlation between a documented strategy and tangible results. This may seem overwhelming for a small or mid-sized business, but you can't afford to fall behind; most of your prospects are searching for businesses like yours online – and your competitors are likely engaging in some level of content marketing. A strong content strategy that includes an execution plan is the key to content marketing success. Here are five essential steps to making sure your content positions you as a subject matter expert and drives desired business results:
1. Start with Your Target Audience
Consider the buying cycle of your typical prospect and what information they need to make an informed decision. See the decision-making process through their eyes – not yours.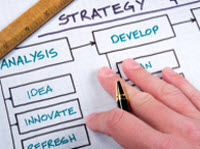 What content can you produce to meet those needs? What content formats are ideally suited for your audience: videos, case studies, infographics, etc. Keep in mind the needs of another audience – search engines. Make sure your content strategy considers search engine optimization and the topics/keywords you want to be found for.
2. Commit Resources
One of the first decisions you will have to make regarding online marketing is: "how will we become a content publishing organization?" A content strategy will not develop and execute itself. You need human resources to plan, craft, and disseminate content. This requires people with expertise in content development and distribution, including copywriters, video developers, social media managers, designers, etc.
3. Develop a Content Calendar
Ideally, businesses should build a 12-month content calendar that plans content by week and month. A calendar ensures you always have ideas and content coming down the pipeline, and that you (or whoever you put in charge of content) is accountable for making the calendar a reality. Our minimum recommendations for content activity are:
A deep dive into a topic that is important for your industry at least once per quarter. This is priority content, which could take the form of a new website page, a long blog, a video, a case study, etc.
In between long content, produce short blogs about news, events, or other articles in your industry. This content can be curated; share other people's content.
 Emails once per month to your prospects and existing customer base.
 Social media posting/sharing several times per week.
Every industry and business is different, so you may want to refine these recommendations to suit your specific situation and typical buying cycle. There are tools available for building content calendars, or you can just use an Excel spreadsheet for planning purposes. It doesn't have to be pretty; it just has to capture the relevant information.
 4. Execute Relentlessly
The key to success is consistent execution. This is what builds momentum and ultimately drives results. Sporadic content development and distribution won't cut it. You need to be relentless. Content strategy execution is something your organization must work on continuously if you want to increase visibility, credibility, and inbound leads.
5. Monitor and Refine
Based on prospect behaviour and search engine results that can be gleaned from analytics data, you must continually refine your content strategy. You may need to adjust topics, format, tone, calls to action, frequency, etc. in order to improve results from your content development activities. Remember, your content calendar is not set in stone. If something important comes up, either for your business or your industry, your calendar must be flexible. As new information emerges, you should be able to shift your content strategy accordingly. Don't assume anything. Let the insight from the data guide your efforts over time. If you follow these steps you will undoubtedly see results over time. A smart content strategy, consistently executed, will improve your website rankings on search engines, generate site traffic, increase your inbound leads, and improve your conversion rates. Time to roll up your sleeves and get to work on your content strategy!