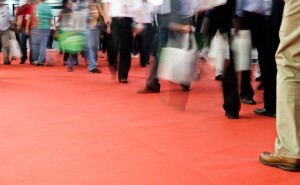 To parody the old joke, "How many customer service people does it take to handle a question?" The answer is lots. You need, at least one to find the right person to handle the call, one to transfer the caller to another extension, one to look up the most recent rules and regulations, one to hum and ha and try to think of a solution, one to say "it's our policy." and one to finally say, "I hope that we have answered your question today." Customer service people, no matter how well intentioned and trained have a distinct disadvantage. They rarely get to see the people they profess to be serving. That's like working on your computer with a broken screen. You can hear the problem but you can't fully appreciate it because there is so much information missing. One way to rectify this problem is to expose your customer service people more exposure to the public and one of the best places to do this is a trade show. Before you say, shows are just for sales people remember when you expand the opportunity of face-to-face communication throughout your organization you add depth to the experience your exhibit program brings to your public. Your customer service people might welcome an opportunity to put a face to the voices they deal with day in and out. However, as willing as they might be, it's important that they understand the challenge of working at a show booth. Here are some things to consider:
Make the offer to be involved with the exhibits program a reward rather than a punishment. The opportunity to work in the booth can be a terrific break from everyday activities. It gives them a chance to travel, see the company in a different light and learn more about customers. That's an enviable reward.
Clearly outline what's expected. Let them know what you are trying to accomplish and give them a chance to add a few objectives that will help them enhance their own job.
Give them the background information including a description of the show, facility, audience and your booth
Show them the big picture. Knowing how their time at the booth will complement the sales and marketing efforts is important.
Build the bridge. Help them bridge what they will learn at the show back to their daily job on the telephones. Mention such things as greater understanding of customer feedback, an appreciation of customer's problems or the ability to develop empathy.
Make them part of the team. If you are planning any post-show activities or special events during the show, treat your customer service people with the same regard as your other booth staff.
Ask for feedback. After the show ends and they are back on the job, take the time to ask for feedback on their show experience. Specifically see if they were able to relate the experience with what they do daily.
Customer service people need to get away from the phones occasionally.
When you use your exhibit program as an opportunity for them to learn and grow you will add considerable value to your investment in the show as well as in your human resources.
© 2007 by Barry Siskind. Barry Siskind is author of Powerful Exhibit marketing. He is also President of International Training and Management Company who offers a number of services to exhibitors including the creation and implementation of a mystery-shopping program. Contact Barry at barry@siskindtraining.com for more information.