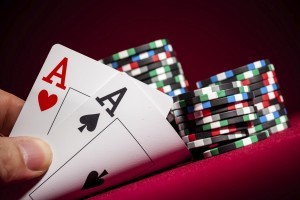 How much of a premium would you pay to bet on a sporting event where the odds favoured your team over the other by 6000 to 100? A no-brainer right, in fact too good to be real, right? Let's look at it a bit differently, how would you like to be up against a professional opponent favoured by similar odds, an opponent who practices every day, honing their skills and techniques, improving their game day in and day out, while you only occasionally dabble in the sport?
I am guessing most of you are saying no to those odds, and would probably pass on getting in the ring with that level of mismatch. But I see sales people do this very thing on a regular basis, but instead of a five dollar bet, what is on the line is their income.
Sales people get into to the ring every day, unprepared and underestimating their opponent's skills, abilities and level of preparedness. What I am talking about specifically is prospecting, especially for buyers in the deep sea of Status Quo. We are not talking about buyers who are actively looking, visiting your website, or buyers who were referred to you because they called their friend in a hurry looking for the exact thing you sell. No the buyers I am talking about did not expect your call or e-mail, these buyers would swear up and down that they don't Need whatever value you are proposing. This is not to say that they would not derive value from what you offer, but left to their own devices, when you phone, what you are selling, or what you are proposing, is not on their radar.
Further, they are trained professionals at shutting down people who call them in the middle of their work day and ramble on about something that does not align with their perceived priorities.
I ask sales teams I work with: "how many unsolicited sales calls do you think your average target gets on a daily basis? Stop and ask yourself that; think of what you sell, think of all the things that individual buys that you don't sell, how many calls do they get?" I get a wide range of answers, from five a day to 20 per day. Let's take the lower end, five unsolicited sales call per day; 25 per week; assuming they work 48 weeks a year, that's 1,200 calls per year. Now let's bring some more reality to the scenario, say they have been on the job for five years, that's 6,000 calls! Take that in a minute.
That's a lot of practice in tuning out the beige and bland! How many times in those 6,000 calls do you figure they have heard empty words like:
Solution
Reliable
Productivity
Efficiencies
Customer centric
Improved work-flow
Dependable
Blah Blah Blah
After a time it all sounds like the teacher in the Peanuts cartoon, wha whawha, whawha wha wha.
How practiced are they in blowing you off and getting back to work? Infinitely more than the average seller. They have it down, so down they can do it without thinking or "being in the call". When they give their initial objection, they don't even think about what they are saying, they just deliver the fatal blow:
Seller: Increase productivity blah blah, work-flow.
Buyer: Thanks, but we're all set
Seller: Well perhaps I can send you information in case you ever need a back-up, I can call you back in a few months (putz).
Buyer: Sure you do that, thanks! (back to work)
Knock out!
This why sales people hate telephone prospecting, high rate of rejection, low rate of success.
Does it have to be that way? Absolutely not!
Why is it that way? Because sales reps are nowhere nearly as prepared as the person at the other end of the phone.
Yet one of the hardest things is to get sales to practice and prepare. Rather than practicing, developing skills and a proper game plan, working on avoiding sounding like all the other voices, they do the same thing over and over again. What was it Einstein said about this type of behaviour?
Attracting Status Quo buyers is not that difficult, you just need to change a few small things, and practice. And I don't mean on unsuspecting buyers, but before you pick up the phone or fire off that e-mail. Start by changing your goal for the call, your goal is not to impress them, not to have a conversation and develop rapport or trust; your goal is to get engagement in the form of an appointment, live, web or telephone, where the buyer has agreed to engage in a business conversation. Singular measure of success, engagement!
Change the narrative from needs or you and your company, not what you do, and how you do it, frankly no one cares, no really. Tell them what they will get out of it, speak to specific impacts and outcomes others in similar situations realized; not in feature benefit speak, they're hip to that, but in business terms they speak every day. What will they tell their boss changed after you? This takes focus and practice, if you are going to wing it like most of the 6000 have done, if you are going to spew you value prop hoping it will impress them, forget it, you'll just be 8001, they'll go back to work, and you?
© 2015 by Tibor Shanto. Tibor Shanto – Principal – Renbor Sales Solutions Inc., is a recognized speaker, author of award winning book Shift!: Harness The Trigger Events That Turn Prospects Into Customers, and sought after trainer; his work has appeared in numerous publications and leading websites. Called a brilliant sales tactician, Tibor helps organizations execute their strategy by using the EDGE Sales Process to create the perfect combination of strategy, tactics, and skills to ensure execution. This forward thinker has been ranked 8th on the "Top 30 Social Salespeople in the World" by Forbes.com. He has also received Gold Medal for the "Top Sales & Marketing Blog 2013" from the Top Sales World Awards. Tibor can be reached at tibor.shanto@sellbetter.ca or + 1 416-822-7781.