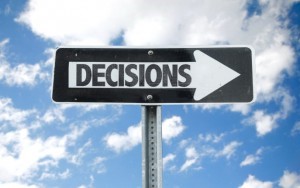 A question I regularly ask when working with a group of reps on prospecting, is "who do you call on?" or "who do you want to call on?" The answer I get is "the decision maker". Now I have used a lot of different directories and databases, and they all give a title, not role in decision. But let's say they did, the real question is what happens when you speak to that decision maker. Unfortunately often this opportunity does not go as well as hoped, for the sales person, and the decision maker.
It has been shown in a number of studies that many decision makers are disappointed with many of their meetings with sales people, often seeing it as a waste of their time. Reps come in unprepared in so many ways. Despite all the information out there, all the research sales people supposedly do in advance of their meetings, they seem to bring little knowledge or real valuable or actionable insight to these meetings.
While there are more, I will look at two that if addressed and improved will dramatically improve your success. First is the focus of all the research and information reps do going into the meeting. When I ask, I still get the same old same old. It is all very product and sales centric. Mercifully you hear less and less of "what keeps you awake at night?" But while the words have changed, the posture and the way it rubs the executive has not. The reality is that much of what many sales people "probe for", are things many senior executives and decision makers have delegated to others in the organization.
Instead they are focused on their objectives 12 – 18 months forward, they are consumed by those outcomes, and their impact on their company, be that profits, market share, Wall Street reaction, and more. It is not about "the" enterprise software, but the impact as they view it. Talk about that and they will engage, and exchange information with you, but with all due deference, the SPIN stuff makes their head spin. Show them that you can help them achieve their objectives, and you're on.
The second common obstacle is the general demeanour of many reps. There is a difference between respecting someone and their position, and putting them on a pedestal. This needs to be a conversation of peers; not equals, but peers. Why would I open up to someone whose words, gestures and posture suggest that they have not faced the type of scenarios and objectives I deal with every day? Many sales people, especially the relationship types or the social types, are reluctant to ask the direct and difficult questions that not only demonstrates that you understand the day to day world of the person you are with, much less help them resolve the gaps that stand between them and their objectives. You can talk probing, but doing it right, is another story. Executives I have spoken to tell straight out that they don't have time to educate reps on the types of things they are trying to achieve or resolve. "I can tell from the questions they ask, and the way they ask them if they really get, are faking it, or just scared shitless because they know they are in over their heads when it comes to my world and day to day". The reason some reps never get the appointment is not because the executive or decision maker is not open to input, but they want that from a peer, who understands what they are dealing with, and can demonstrate that they have fought the battle and won. Not with a glossy case study but how they conduct themselves. In short, Decision makers want to deal with decisive people, people who can lead them to success, not just follow hoping for relationship.
© 2015 by Tibor Shanto. Tibor Shanto – Principal – Renbor Sales Solutions Inc., is a recognized speaker, author of award winning book Shift!: Harness The Trigger Events That Turn Prospects Into Customers, and sought after trainer; his work has appeared in numerous publications and leading websites. Called a brilliant sales tactician, Tibor helps organizations execute their strategy by using the EDGE Sales Process to create the perfect combination of strategy, tactics, and skills to ensure execution. This forward thinker has been ranked 8th on the "Top 30 Social Salespeople in the World" by Forbes.com. He has also received Gold Medal for the "Top Sales & Marketing Blog 2013" from the Top Sales World Awards. Tibor can be reached at tibor.shanto@sellbetter.ca or + 1 416-822-7781.