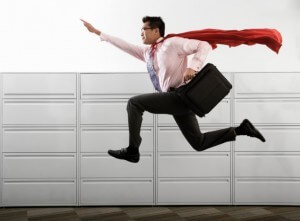 Everyone knows and expects prospecting to be laborious. Often we hear people say that it's a "numbers game". Well … that is true. If you don't make the calls & put in the effort you won't success no matter how good your strategy & skills are. But … imagine your results if you put forth the necessary effort in an effective and productive way. Here's how:
Plan Your Prospecting
Most sales people have to juggle their time between servicing existing customers, selling to existing customers, participating in meetings, helping with marketing events, being a resource to others, and new business development. It's no wonder that when I ask sales people … "what part of your job does not get the attention needed", 90% of the time they all say … "new business development".
But why? It's not because sales people are "lazy or crazy" (although Sales Managers often think that). Sales people are not stupid… we all know that without new business activities and a full pipeline; long-term success will be hard to achieve. But … let's be honest, new business development is the least fun and has the longest cycle … i.e. It can be less gratifying short-term as compared to other aspects of the job. Also, logic suggests that if your existing customer calls you with an issue or opportunity, you will make them your priority ahead of new business development.
So, an easy suggestion is to schedule, directly into your calendar, your prospecting time. E.g. 8 am to 12 pm every Tuesday & Thursday. But be sure, 80/20, you stick to your schedule. Because new business is all about momentum, one must allocate at least a 2-3 hour consecutive window. Also, by putting it firmly into your calendar as a "meeting", you are telling yourself and your team that you are busy and therefore, are less likely to allow yourself to get distracted.
When to Prospect
People today are so hard to reach. So, try calling between 7 – 9 am OR between 4 to 6 pm. Your audience is less likely to be in other meetings and the gatekeeper is more likely not there so your odds of getting hold of them go up.
Manage Your Road Time
Being on the road is very expensive. Your car, your gas, your cell phone all add up. But that is not the biggest cost. The average person can have 3 quality face to face meetings in a day while they could have 10 phone meetings in the same time period.
Does that mean one should not travel to visit prospective or existing clients? Of course not as it's a critical part of the sales process from many environments and industries.
What it does mean though is that travel should be typically reserved for qualified, meaningful meetings when your audience has already expressed a real, actionable need.
Example: If I received an incoming lead to follow up; my 1st meeting would always be via phone to qualify the situation before I went to their offices.
Leave Non-Selling Activities For Non-Selling Time
In every job, there are activities we need to do – reports, proposals, lead-gen research, developing templates, updating our industry knowledge.
All of these things are critical and necessary parts of the job for long-term success. BUT, they can be done anytime. 6 at night, over lunch, Sunday afternoon … Not in the middle of core-selling time.
Fill Your Funnel Before Your Vacation
Before every vacation, work as hard as you can to schedule prospecting meetings for your return. There are 2 benefits to this approach: 1. You will enjoy your vacation more knowing your have set yourself up already; 2. You will have a quick start when you get back.© 2016 by Darren Rabie. Co-Founder and President of Focus America, Darren Rabie is also a passionate speaker, writer and jokester, having enjoyed speaking at over 350 events, trade shows, associations & CEO groups throughout North America…with topics including "How to Turn Leads into Sales", "Manufacturing a Sale", and "The Science of Selling". Daren has helped hundreds of owner-operated B2B companies make the transition to a structured, scalable and accountable sales organization. For more information, visit www.focus-america.com or contact Darren directly via email at drabie@focus-america.com