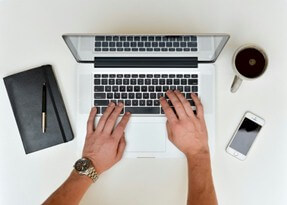 Email is a powerful online marketing tool that can increase your sales when used properly. It's a cost-effective method for delivering personalized, relevant information directly to your targeted audiences – and should therefore be an integral part of your online marketing infrastructure.
Some organizations worry that email marketing campaigns will crowd inboxes or that sending too many emails will have a negative impact on how they are perceived. The fact is that when email marketing is executed strategically, with considerable thought given to the informational needs of the recipient, it will have a positive impact on your revenue growth.
Email marketing can be used in various phases of the business development process: lead generation, lead nurturing, and post-sales optimization.
Lead Generation
One way to expand your reach is to use email marketing to gain visibility and generate leads.
Using email for lead generation will require the creation of target lists that match the profile of your ideal prospect. In Canada, you can't simply purchase lists and then send emails without the recipient's permission. Therefore, it's best to start an online digital marketing strategy including SEO that helps you generate opt-in leads through forms and conversion funnels on your website.
Lead Nurturing
Once an inbound lead has been generated, or when a prospect has "put their hand up", the real work has just begun. The ultimate objective, of course, is to make a sale; this is done by guiding and educating (i.e. nurturing) them through the decision making process.
In this day and age, prospects are reluctant to speak with a salesperson until they have done their own research – typically online. According to Scott Albro, CEO of Tippit, only in the "last third of the purchasing process do buyers want to engage with sales reps".
According to Forrester Research, lead nurturing is "a sustained relationship with influencers and decision-makers, through which relevant and valuable insight is delivered through integrated channels in a coordinated process, in exchange for increasing intimacy and influence".
One of those channels is email. Once the prospect has provided permission for an on-going dialogue, delivering relevant, timely, and personalized information through email is a cost-effective mechanism to engage and educate during the buying process.
Post-Sales Optimization
One of the most valuable assets any business possesses – and often the single most neglected – is its customer base. An organization should never assume its customer base will always be there for them. This is a complacent approach that can lead to losing customers.
For Marketo President and CEO Phil Fernandez, the entire lead generation, lead nurturing, and post-sales processes now amount to a single "Revenue Cycle."
If a customer base is so integral to the entire commercial process, it is essential for businesses to consistently and appropriately stay in close, meaningful contact. However, it is difficult to maintain a value-based relationship with customers through human contact. There just aren't enough hours in the day.
The strategic use of email allows businesses to remain visible with customers, and to continue to create value after the sale.
Email content can include sales/promotions, industry trends or events, new products announcements, tips/advice, events, the availability of services, etc. Whatever information customers deem valuable.
Email Marketing Keys to Success
In order for email marketing efforts to produce results, and to contribute to revenue growth, there are some keys to success:
This goes without saying. The content must be relevant, timely, personalized…
A lot of thought must be given to content so that recipients know it will help them make decisions, keep them informed, entertain them, and hold their interest. If content does not do these things, people will not open emails or they will unsubscribe.
Subject lines have a direct impact on open rates. Make them compelling and test to see what works best for your audience.
Lead nurturing starts with building opt-in lists. This requires strong calls to action that will compel people to identify themselves and give you permission to send them information.
Understanding who is in your database, and what their particular interests are, is critical. This insight allows you to segment your contacts and send them unique, targeted, and personalized information. You should consistently assess, segment, and clean your contact lists.
Most email distribution systems or service providers give you access to analytics, helping to guide and refine your email marketing efforts. The data offers insight into which subject lines perform best, what percentage of recipients opened your emails, who specifically opened the emails, what links within the emails were clicked, etc.
Good Content Calendar/Communications Plan
Develop a communications schedule with dates/topics by segment to ensure contacts are receiving the right content at the right frequency in the right sequence. The plan should detail the lead generation, lead nurturing, and post-sales email communication activities.
Canada's anti-spam legislation requires that businesses have permission to send emails for business development purposes. Ensure that your email marketing tactics, or the third party list providers you are considering, are in compliance with CASL.
Email marketing should be an important part of the online marketing mix for virtually any business. It's a cost-effective method for generating and nurturing leads, as well as optimizing the relationship with your existing customer base. Approach it thoughtfully and strategically. When you do, it will have a positive impact on your business development results.
If you are interested in improving your website's conversion funnels and lead generation, please take a look at the Scott's Lead Generation Services